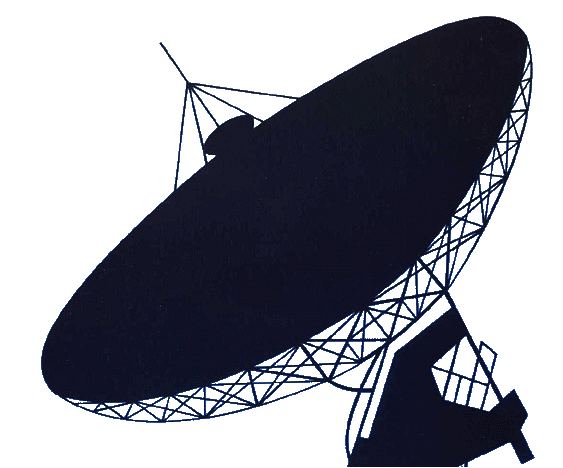 A LOOK BACK: LONG ISLAND'S FIRST RESEARCH CHAIR ANTICIPATED INFORMATION AGE

Back before satellite antennas and electronic remotes were household appliances, when wireless services were something out of a James Bond movie, Meadow Brook National Bank Chairman and Hofstra Trustee Augustus B. Weller created the first research chair on Long Island, which helped pioneer allocation and use of the airwaves. The fully endowed Augustus B. Weller Chair in Economics at Hofstra University was commemorated at a testimonial dinner at the Garden City Hotel on October 24, 1963. Before the century was through, the research generated by the chair inspired the U.S. Telecommunications Act of 1996, allowing the U.S. to realize the full potential of the information age.
In establishing the Weller Chair, Hofstra's Board of Trustees raised $400,000 from Long Island's business community. On September 23, 1964, the Board awarded the chair to Professor Harvey J. Levin, then chairman of the university's Economics Department and a lifelong resident of Long Island, who held it for its first twenty-five years.

"A kind and generous lady who lived in our Village of Westbury, and who had a considerable curiosity, had apparently been bombarded with innumerable inquiries about what had happened. Finally, she wrote to my wife. 'Dear Rhoda,' she said, 'We've all been reading in the newspapers about Hofstra's new Chair. Everyone's talking. It just sounds wonderful -- congratulations! What is it?"

-- Harvey J. Levin
upon receiving the Weller Chair, September 23, 1964
(from
An Act of Community Faith: The Founding of the Weller Chair
)
Allowing him to spend half his time performing research, funded by think tanks like Resources for the Future (RFF), the chair supported Dr. Levin's groundbreaking study anticipating the evolution of television, satellites, cellular telephones, remotes and wireless internet, and their demands on increasingly congested airwaves.


The wireless "shoe-phone" in television's Get Smart, circa 1965
At a time when cell phones were considered a joke and existed only in secret agent Maxwell Smart's "shoe phone", the chair-sponsored study was considered "far out" even by one of RFF's own trustees. Most observers didn't even consider the airwaves a resource, and some likened the study's "far-fetched" concerns to those in "Star Trek". However, the study's publication, The Invisible Resource – Use and Regulation of the Radio Spectrum, pioneered the field of communications economics. It also inspired the Federal Communications Commission's equitable diversification of the airwaves, when the U.S. began auctioning off broadcast frequencies in 1995, culminating in the 1996 Telecommunications Act.

Today Hofstra's Weller Chair continues to support economic research and publication. Its history is archived at the university's

Archives

, which includes the

Harvey J. Levin Papers

.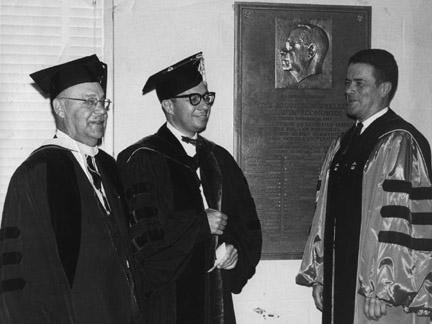 Augustus B. Weller (left) and Hofstra President Clifford Lord (right) present the Weller Chair to Dr. Levin (center).

"It is personally gratifying to me that in Dr. Levin, we have found not only a young scholar who already has a

national reputation, but one of our own -- a Long Island resident and a dedicated Hofstra teacher," said Mr. Weller.

In his address to the Hofstra and Long Island community that day, Dr. Levin shared the following observations in accepting the chair which, like the chair-sponsored study itself, were proven correct some thirty years later.



Bear in mind at least that businessmen, like members of other groups and professions, are shaped by culture and society as much as they in turn influence them; that their habits of thought are deeply ingrained; that thinking one way in the rigors of the marketplace, it is not always easy to think in other terms in the crucial area of educational investment. Yet, our donors have done just that, by acting here not along traditional lines of economic calculation narrowly viewed, weighing off dollars invested against expected financial returns. Rather they have acted on the basis of a faith – a faith in our dual system of education, and in the judgment and capacities of Hofstra University. Above all, they have shown the most crucial of attributes – a mature willingness to settle for returns on their investment of a far more elusive, but I believe, fundamental sort, than financial returns in the marketplace. But returns there will be – make no mistake about that – if we jointly broaden our sights and release our imaginations to identify them.

(From An Act of Community Faith: The Founding of the Weller Chair, Hofstra University, 1964)