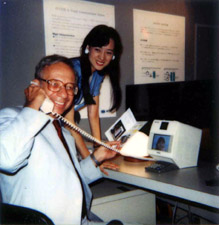 At Hoover Institute, latter 1980s

PROFESSIONAL BIO

Harvey J. Levin (July 1, 1924-April 30, 1992) was University Research Professor in the Department of Economics at Hofstra University (1989-92), Augustus B. Weller Professor of Economics (1964-89), and Founder and Director of the Public Policy Workshop (1975-92). He was also a Senior Research Associate at the Center for Policy Research. Among other studies, he was author of Fact and Fancy in Television Regulation – An Economic Study of Policy Alternatives (Russell Sage Foundation and Basic Books, Inc., 1980), The Invisible Resource – Use and Regulation of the Radio Spectrum (Johns Hopkins Press, 1971), Broadcast Regulation and Joint Ownership of Media (New York University Press, 1960), and Business Organization and Public Policy (Holt-Rinehart, 1958), a collection of essays edited with commentary. At the time of his death, he was at work on a subsequent book, Harvesting the Invisible Resource – Global Spectrum Management for Balanced Information Flows, which was to be published by Oxford University Press.

Dr. Levin published numerous scholarly papers on public policies towards television broadcasting, space satellites and the radio spectrum resource, and participated frequently in conference panels on the same, for the American Economics Association, the Annenberg Washington Program, the Atlantic Economic Society, the International Institute of Communications, the Institute of Electrical and Electronics Engineers, the International Communications Association, the National Academy of Engineering, the National Academy of Sciences, the National Research Council, the Pacific Telecommunications Council, the Annual Telecommunications Policy Research Conferences, and the

Western Economic Association International.

Among other organizations, he consulted for the President's Office of Telecommunications Management, the Federal Communications Commission (FCC), the FCC's Public Advisory Committee on the World Administrative Radio Conferences (WARC88), the Office of Technology Assessment of the U.S. Congress, the General Accounting Office, the Committee for Economic Development, the Department of Justice/Antitrust Division, and the Federal Trade Commission/Bureau of Economics.

Dr. Levin's research was supported in part by the National Science Foundation (1984-88, 1970-78), the Russell Sage Foundation (1978-79), and Resources for the Future (1980-82, 1964-69). He was Liberal Arts Fellow in Law and Economics at the Harvard Law School, 1963-64, and a Brookings National Research Professor in Economics, 1959-60. More recently, he was Visiting Fellow, Center for Strategic and International Studies, Georgetown University, 1982-83, and a Visiting Scholar, Stanford University (Department of Economics/National Bureau of Economic Research, Hoover Institute, Center for Educational Research at Stanford), Summers 1982-91. He was a member of the Cosmos Club of Washington, D.C. (1986-92), the Editorial Board of Telecommunications Policy (1989-92), and the Society of Columbia Scholars and the Harvard Law School Association of New York City (1991-92).

He was also a community activist with such organizations as the National Emergency Civil Liberties Committee, the National Citizens Committee for Broadcasting, the Committee To Protect Journalists, the Long Island Alliance for Peaceful Alternatives, and the Long Island Coalition for Fair Broadcasting Honorary Advisory Board. In this capacity, he worked with public figures ranging from Eleanor Roosevelt, Fred Friendly and Jack Pickering to George McGovern, and contributed pieces to various journals including The New York Times and The Nation.

In 1986, Dr. Levin was elected to membership in the Cosmos Club of Washington, D.C., an association of persons deemed to "have done meritorious original work in science, literature, or the arts, or… recognized as distinguished in a learned profession or in public service". That year, he also was invited to place his papers in the Archive of Contemporary History at the University of Wyoming, devoted to "the history and development… of individuals who have played a prominent role in the twentieth century's social, political, legal and economic scene…"

Three years after Dr. Levin's death, in 1995, the FCC started implementing his long controversial proposals by auctioning off portions of the radio spectrum, or broadcast frequencies, culminating in the U.S. Telecommunications Act of 1996. In 1997, partially inspired by Dr. Levin's research, the U.S. Congress recommended a voucher program for allocating the use of outer space for transportation and satellites, in its appropriations bill for the National Aeronautics and Space Administration (NASA). His field of work continues to be developed by such colleagues as Molly Macauley, Eli Noam, Donna Demac, Thomas Hazlett, Evan Kwerel and Joseph Pelton.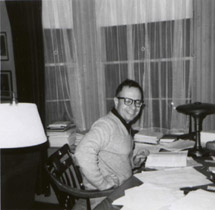 At Harvard Law School, circa 1963-64

DETAILED SUMMARY OF SCHOLARLY WORK AND INTERESTS
by Harvey J. Levin
(circa 1980s)

One thread of scholarly inquiry

has entailed a great deal of work on the broadcast industry, satellite organization, cable television and other mass media, in articles for major economic journals (American Economic Review, Journal of Political Economy, Journal of Law and Economics, Bell Journal, Quarterly Journal of Economics, Land Economics) and law reviews (Columbia, Penn, Georgetown, Virginia, Law and Contemporary Problems). Much of this actually culminated in a nine-year-long quantitative assessment of public policy towards TV broadcasting (Fact and Fancy in Television Regulation, Russell Sage Foundation, 1980), funded substantially by the National Science Foundation with parts based on an earlier book on joint ownership of media (New York University Press, 1960). The latter had figured frequently in legislative and regulatory proceedings well into the 1970s. The broadcast and satellite regulatory work has itself entailed major consultantships to the Federal Trade Commission, Antitrust Division, Ford Foundation, and Committee for Economic Development. It was also linked to conceptually related cognate work as co-director of the New York State Moreland Commission on the Alcoholic Beverage Control Law.

A second thread of work has been in the political economy, technology, and administrative regulation of far-flung global resources, mainly the radio spectrum and orbital arc used for worldwide communication, but also the environment and the oceans. This work starts with the science, technology, and institutional/administrative framework of those precious resources which all electronic communication requires, and then examines new economic mechanisms (auctions, shadow prices, marketable leases) to optimize their use and development, using micro-economic analysis and with special reference to rich and poor nations generally. Insights are derived also from economic assessment of the management alternatives at issue in other global resources. This study started with foundation funded research in 1964-65 and was published in 1971 at the Johns Hopkins Press (The Invisible Resource). It systematically applied economic reasoning and comparative institutional analysis to spectrum resources as common property. That volume provided a base for certain key ideas in the Russell Sage study. It has increasingly figured also as a benchmark for scholarly, governmental and foundation discussions of the spectrum, and of telecommunications more generally at home and abroad.

This work further entails numerous presentations (for American Economic Association, Western Economic Association, Pacific Telecommunications Council, International Institute of Communications, and annual Conference on Telecommunications Policy Research); journal articles (American Economic Review, Journal of Law and Economics, Telecommunications Policy, Michigan Yearbook of International Legal Studies); and consultantships (Office of Technology Assessment, General Accounting Office, Brookings Institute, Resources for the Future). Also, the effort has culminated in new funded studies of global and regional dimensions of resource management. It relates to an American Economic Association panel on "The Global Commons Revisited" which I organized for the New York meetings in December 1982. It relates further to pending international space conference preparations; to my consultative role in several public advisory groups; and finally, to my affiliation in 1982-83 as Visiting Fellow at the Georgetown University Center for Strategic and International Studies (on research leave from Hofstra).

A third and final thread of activity

has been to explore selected interstices of economic science and other academic disciplines. Indeed the first two threads have actually been based on broad explorations of the interrelations of law, economics, and technology on one hand, and of economics, politics, and the behavioral sciences on the other hand. Those explorations followed a number of intensive postdoctoral studies at Columbia, a period right after as lecturer in contemporary civilization at Columbia College and, a decade later, culminating in a year as Carnegie Fellow in Law and Economics at Harvard Law School (on leave from Hofstra). Most recently, my ongoing duties as Director of the Public Policy Workshop at Hofstra (which I founded in 1975) has permitted me to explore numerous links between economics and a broad array of public issues, ranging from nuclear accidents/who shall pay; inflation and the environment; the crisis in American steel; issues in civil service reform; ethical issues in social science research; federal regulation of automotive safety, pollution, and energy consumption; law and economics of highway usage; origins and consequences of airline de-regulation, etc.